This article is an excerpt from our Sefer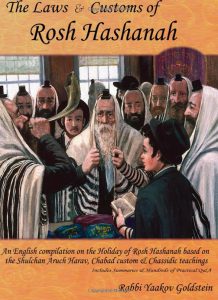 Learning Miseches Rosh Hashanah [1]
Based on Kabala one is to study the four chapters of Tractate Rosh Hashanah, prior to doing Mayim Achronim before Birchas Hamazon, of each meal by Rosh Hashanah night and day. One is to intend that each chapter corresponds to one letter of the name Havayah.
Saying Tehillim after the day meal:
After eating the day meal one should return to Shul and say Tehillim.[2] Some have the custom to complete the entire Tehillim.[3] Some have the custom to read the Tehillim together with a Minyan and they do not stop from beginning until end.[4]
Learning all one's set Shiurim:[5]
The Rebbe Rashab would learn all of his set Torah Shiurim [even in Nigleh] on Rosh Hashanah and Yom Kippur.
---